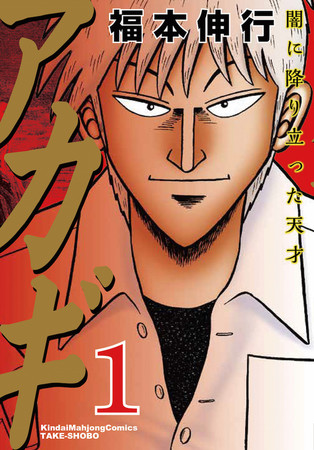 As of Thursday, the live-action television adaptation for the mahjong gambling series "Akagi" has been confirmed for a debut in the next year. Titled "Akagi: Washizu Mahjong Kanketsu-hen" a.k.a. "Akagi: Washizu Mahjong Concluding Chapter", the upcoming miniseries will be having three episodes.
The news was officially announced by the staff of the production, which include Hitoshi Iwamoto as the director and Mitsuru Kubota as the producer. Acting as the scriptwriter of the new live-action work is Mitsuru Tanabe.
Adapted from the manga series created by Nobuyuki Fukumoto, it tells the tale of one Shigeru Akagi and his entrance into the word of mahjong gambling. After escaping authorities in the aftermath of a death-defying game of chicken in an evening of 1958, he manages to shake them off by nonchalantly entering in a yakuza mahjong parlor.
Though unfamiliar with the game's mechanics, Akagi manages to make it far with his gambling intuition and as the night progresses, he goes as far as gaining a match against other yakuza members. Upon defeating blind professional player Ichikawa, Akagi gaines a mythical status at 13 only to disappear afterwards. But as the years pass and Akagi turns 19, he isn't able to escape the world of mahjong gambling any longer.
Starring as the live-action version of the protagonist is Kanata Hongou, who played as Ryoma Echizen in the live-action film adaptation of "The Prince of Tennis." Masahiko Tsugawa, who played the role of Hotsuma Raido in "Ultraman Ginga" will be playing as the antagonist Iwao Washizu.
Taking the role of Takeshi Oogi is Youji Tanaka, the actor behind, Fukugawa Sainosuke in "Hana Moyu." Lastly, playing as the policeman Yasuoka is Satoshi Jinbo, who played a role in the "Kamen Rider x Kamen Rider Wizard & Fourze Movie Taisen Ultimatum" film.  
The manga series was first released in 1992 and serialized by Takeshobo's Kindai Mahjong magazine. Most recently, the series got its 34th volume published by the magazine on April 15 and collectively, a total of 12 million copies was circulated worldwide. After 27 years, the manga series will be ending in February of the next year.
In the course of its run, the series has inspired a 2005 anime series, a 2015 live-action series and coming on October 13, there will be a second season released.
Source: AnimeNewsNetwork
See also: An Honest Identity Story: Shimaname Tasogare
See also: An Actual Simple Love Story: Doukyuusei