Anime Database
On the "Special Student Zone" artificial island – Nanaejima, the story centers on a beautiful, optimistic, but NEET (not in education, employment or training) girl Nanana Ryugajo, who was mysteriously killed in her own apartment. Ten years later, a boy named Juugo Yama was forced to transfer to a high school on the island.
162 users added this.

Considered as the third installment in the highly popular "When They Cry" series by 07th Expansion, Umineko no Naku Koro ni takes place on the island of Rokkenjima, owned by the immensely wealthy Ushiromiya family. As customary per year, the entire family is gathering on the island for a conference that discusses the current financial situations of each respective person.
54 users added this.
Amakusa Takara is an exorcist. A woman called Shizuha is capable of producing the ancient writings of the "Scripture" on her body, therefore she is targeted by demons and cults alike.
14 users added this.
Set in the flourish world of Jinga that was formerly a prosperous and peaceful realm, the female protagonist is deemed to be the key to bring back order and to rule this world. Chaos started when people, specifically soldiers, who has special powers like turning into a vampire and a manwolf, called the Getsugazoku, fight for their land.
108 users added this.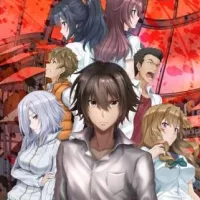 Nobuaki Kanazawa, who transferred to a high school far away, is afraid of getting intimate with his new classmates because of the events that happened from his previous school. This led him to shut his heart.
436 users added this.
The protagonist Akira Fudo learns from his best friend, Ryo Asuka, that an ancient race of demons has returned to take back the world from humans. Ryo tells Akira that the only way to defeat the demons is to incorporate their supernatural powers, and suggests that he unite with a demon himself.
1931 users added this.
The distant future: Humanity established the mobile fort city, Plantation, upon the ruined wasteland. Within the city were pilot quarters, Mistilteinn, otherwise known as the "Birdcage.
3264 users added this.

Izakaya "Nobu" is a modest establishment, staffed by only two people: master, Nobuyuki Yazawa, and server, Shinobu Senke. Despite its humble appearance, its entrance is mysteriously connected to an ancient city from another world: "Aitheria.
62 users added this.
The story follows Yoonbum, a young, mentally ill man with a difficult past. After becoming infatuated with Sangwoo, a peer from his time in the military who saved him from a rape attempt, he decides to enter Sangwoo's home while he is out of his house.
110 users added this.
According to the theories of oneiromancy, dreams of dragons represent the struggle of losing yourself to your own anger. Fittingly, Souya Kuroi wakes up from a nightmare of a massive dragon destroying everything around him in a blaze of rainbow colored light.
16 users added this.
In the 93rd year of the Sentence of Sand, the world is covered by oceans of sand and 513 people live in isolation on the Mud Whale, an islandlike ship that is adrift on the sand. As he investigates an abandoned ship that has drifted up to the Mud Whale, Chakuo -- the island's archivist who is endowed with special powers -- meets a mysterious girl named Rikosu.
2 users added this.