Ash is a young boy who has always dreamed of becoming a Pokemon trainer. At age 11 he is gifted his first Pokemon, Pikachu, from Professor Oak.
9307 users added this.
Taking place a few years after Digimon Adventure, the Digital World comes under attack from a mysterious human calling himself the Digimon Emperor who is enslaving Digimon with his Dark Rings while building Control Spires that negate Digivolution and act as aerials to power the Dark Rings. To fight him three new Digi-destined, Davis, Yolei and Cody along with the now teenage T.
1133 users added this.

A few years after the adventures of the Chosen Children in the Digital World, a new batch of Chosen Children are summoned to save the Digital World. An evil ruler known as the Digimon Kaiser, or Digimon Emperor, is forcing the Digital World's Digimon into enslavement.
239 users added this.
Digimon Frontier introduces a new universe in the Digimon fandom. Five kids from the Real World have been called to the Digital World to acquire the "legendary spirits" to save the Digital World from one of the 3 Holy Angels, Cherubimon, who has revolted against the other two.
1698 users added this.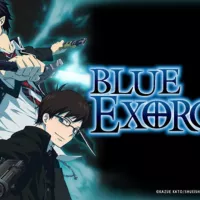 The story revolves around Rin Okumura, a teenager possessing abnormal strength and endurance who, along with his younger twin brother Yukio, was raised by Father Shiro Fujimoto. Soon after Yukio departs to study at the prestigious True Cross Academy, Rin learns that he is the son of Satan, the strongest of all demons.
12316 users added this.
Haruyuki "Haru" Arita is a short, overweight boy who is constantly bullied at the Umesato Junior High School which results in him having exceptionally low self-esteem. To escape the torment of real life, he logs onto the school's Local Network where he always plays squash by himself, and his innate skills bring him the attention of Kuroyukihime, the school's popular and attractive female Student Council Vice-President.
2422 users added this.
OVA bundled with the Accel World simulation and action games. The Blu-ray OVA discs came with the PS3 limited edition versions and the DVD with the PSP limited edition versions.
299 users added this.
Momomia Ichigo, is your average twelve year old girl that is until one eventful date. Her crush masoya ayoama asks her to attend an endangered species exhibit and after a series of events she gets hit by a ray that turns her into a cat.
1364 users added this.

Mega Man: Upon a Star, known in Japan as Rockman: Hoshi ni Negai o (ロックマン 星に願いを, lit. "Rockman: Wish Upon a Star"), is a Japanese anime original video animation (OVA) series produced by Ashi Productions (who also later worked on the American Mega Man cartoon in 1994) and based on the popular Capcom video game franchise Mega Man.
15 users added this.

Satoru Fujinuma is a young manga artist struggling to make a name for himself following his debut. But, that was not the only thing in his life that Satoru was feeling frustrated about…he was also living with a strange condition only he was able to experience.
2417 users added this.