Anime Database
The distant future: Humanity established the mobile fort city, Plantation, upon the ruined wasteland. Within the city were pilot quarters, Mistilteinn, otherwise known as the "Birdcage.
3390 users added this.
In Universal Century 0079, forces of the Earth Federation and Principality of Zeon engage in a battle within the Thunderbolt Sector during the One Year War. This section of space—known for its constant strikes of electricity—proves to be a deadly battlefield, as Federation pilot Io Fleming leads a charge against Zeon's ace Daryl Lorenz and his squad of snipers.
136 users added this.

In the world of guns and steel that is Gun Gale Online, LLENN has been a devoted, female solo player. She is obsessed with two things: donning herself entirely in pink and honing her skills with consistent game play.
967 users added this.
The Legend of Zelda: Majora's Mask is a manga by Akira Himekawa loosely based on the story of Majora's Mask. It was released in Japan in March 2001 and made available in English through Viz Media on February 3, 2009.
77 users added this.
Bloodthirsty demons lurk in the woods, and nobody dares to venture out at night, save for the demon slayer of legend. Surviving in this harsh world, young Tanjirou takes it upon himself to protect his family–until the day that everything is taken from him in a vicious slaughter.
6277 users added this.
Denji's life of poverty is changed forever when he merges with his pet chainsaw dog, Pochita! Now he's living in the big city and an official Devil Hunter.
311 users added this.
Star Wars: Visions is an anime anthology series created for the American streaming service Disney+
37 users added this.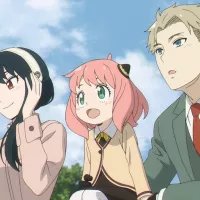 An action-packed comedy about a fake family that includes a spy, an assassin and a telepath
199 users added this.
After an invasion of magical armored insects, humanity is forced to retreat to the skies and now live in floating cities. The cities' only hope lies in the Sky Wizards who defend them against the flying invaders.
6 users added this.
Despite his efforts during the Sunshot Campaign to bring down the tyrannical Wen Clan, Wei Wuxian (魏无羡) was feared by the world for the unorthodox cultivation path he created. Thirteen years after he was killed, he is summoned into the body of a man called Mo Xuanyu (莫玄羽), who was rejected by his clan and despised by his family, therefore sacrificing his own body to Wei Wuxian so he would be avenged.
4 users added this.
Eight hundred years ago, Xie Lian was the Crown Prince of the Xian Le kingdom. He was loved by his citizens and was considered the darling of the world.
5 users added this.