The ghouls of Anteiku invaded the Aogiri's site in order to rescue Kaneki Ken who is being tortured. Due to provocation, he unleashed greater power enough to defeat Yamori.
3718 users added this.
Ani.me's official listing has the Tokyo Ghoul:re storyline, reviews, and Tokyo Ghoul:re pictures that you need. Get to know everything about this Manga show.
1022 users added this.
Taking place in 1938, the story follows the misadventures of Joseph Joestar (a.k.
1810 users added this.
Late 19th century. Young, handsome and wealthy English nobleman Jonathan Joestar seems to have everything people crave for.
3773 users added this.
The suspense horror/dark fantasy story is set in Tokyo, which is haunted by mysterious "ghouls" who are devouring humans. People are gripped by the fear of these ghouls whose identities are masked in mystery.
14221 users added this.
Fourth story arc of JoJo no Kimyou na Bouken series. The coastal town of Morioh is plagued by the "Bow and Arrow," an ancient artifact which manifests latent stand abilities in criminals and ordinary folk alike.
2257 users added this.
Following the story of the jojo's but with Stands
2916 users added this.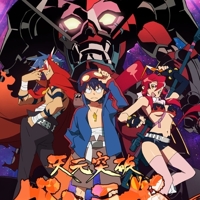 Gurren Lagann takes place in a fictional future where Earth is ruled by the Spiral King, Lordgenome, who forces mankind to live in isolated subterranean villages. These villages have no contact with the surface world or other villages, and are under constant threat of earthquakes.
8443 users added this.
The story of Death Note revolves around a high school student called Yagami Light. His life changed when he saw a supernatural notebook that fell from the sky.
25322 users added this.
Kurosaki Ichigo is not your average, everyday 15-year-old high school student. He has from as far he can remember always had the ability to see ghosts and spirits.
19523 users added this.