Girl's High [TV]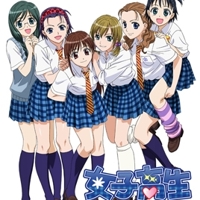 Plot Summary
Three middle school girls are overjoyed to be soon graduating to high school status, and they sneak into their new high school, a private school, for a peak a day before their admission. But everything starts to get out of control when they meet three other middle schoolers who mistake them for high school students and start calling them Senpai. They run with the mistake, spouting off all kinds of nonsense about what high school is truly like, despite never having experienced it themselves. This causes headaches and angst the next day as all six middle schoolers are sorted into the same high school class ("Bamboo class"). In the first episode a war rages on between these two groups of three newly-minted high school students, culminating with two of them being locked in a room together to do battle.
Everyone quickly finds out their original notions about the all female private high school may not be as true as they were thinking. They weren't guaranteed to get a boyfriend right away as they had hoped. Or would they? Fortunately Eriko and her friends are joined by more new friends. They all work hard to get through high school life together.
165 users rated this.
Watched By
Comments