Anime Database
This romantic comedy revolves around an antisocial high school student named Hikigaya Hachiman with a distorted view on life and no friends or girlfriend.When he see his classmates talking excitedly about living their adolescent lives, he mutters: "They're a bunch of liars.
1021 users added this.
Have you heard of "Death Note":https://ani.me/death-note?
233 users added this.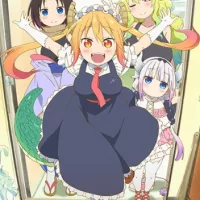 One morning, as office worker Kobayashi gets ready for another day at work, she is greeted by a terrifying sight—the head of a large dragon staring into her eyes from across the balcony. The dragon immediately transforms into a cute, busty and energetic young girl in a maid outfit, who introduces herself as Tohru.
4560 users added this.
Having reached professional status in middle school, Rei Kiriyama is one of the few elite in the world of shogi. Due to this, he faces an enormous amount of pressure, both from the shogi community and his adoptive family.
469 users added this.
Hinako lives in the countryside and is poor at speaking. She wants to improve her speech to be able to talk to people fluently, so she moves to Tokyo and plans to join the drama club in high school.
111 users added this.
Chisato Mizusawa is a reserved but excellent and pretty assistant manager in her company. She has a secret that only her husband Sora knows, which is that she likes drinking alcohol, and she can become very cute when she is drunk!
179 users added this.
Sakuranomiya Maika is, by nature, a person with bad luck and always gets into trouble, but knows Dino, who manages a cafeteria. However, it is not any cafeteria, and the waitresses have to act according to their "attributes.
1040 users added this.
Inuyashiki Ichirou is down on his luck. While only 58 years old, his geriatric looks often have him written off as a pathetic old man by the world around him and he's constantly ignored and disrespected by his family despite all that he's done to support them.
503 users added this.
Retsuko is a 25-year old red panda who works in her dream company's accounting department. Set in Japan it shows a very relatable scene for Japanese office workers, and is also quite relatable to any other person working a boring office job anywhere else in the world.
376 users added this.
The story follows college student Kazuya Kinoshita, dumped by his girlfriend for another guy. He attempts to appease the void in his heart through a mobile app called Diamond to hire Chizuru Mizuhara, a rental girlfriend, to make himself feel better.
441 users added this.
Tasogare, the Demon Lord's castle is a terrifying place, teeming with various monsters that strike fear into the hearts of any unfortunate souls who find themselves imprisoned there. However, for the human princess Aurora Suya Rhys "Syalis" Kaymin, her primary concern is not the dangers lurking within, but rather her lack of sleep.
22 users added this.