Chise Hatori, 15 years old. Lost, without hope, and without family, she is bought for money – not by another person, but by a non-human sorcerer named Elias.
954 users added this.
Synopsis Otaku Sakamichi Onoda has just entered high school and plans to join the anime club. In middle school, Onoda didn't have any friends with whom he could talk about anime, games, Akihabara and other otaku things, and he is hoping he can make such friends in the anime club, but he finds out it's been disbanded.
317 users added this.
Late 19th century. Young, handsome and wealthy English nobleman Jonathan Joestar seems to have everything people crave for.
4626 users added this.
Following the story of the jojo's but with Stands
3613 users added this.
There once was a man named Gold Rodger, a pirate, and he was given the glorious title: 'King of the Pirates' for possessing the legendary treasure, One Piece. He had fame, fortune, and power, until one day, he caught and brought to the execution tower to be executed.
20319 users added this.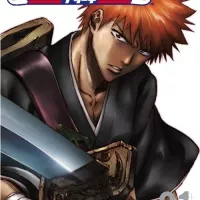 Kurosaki Ichigo is not your average, everyday 15-year-old high school student. He has from as far he can remember always had the ability to see ghosts and spirits.
21980 users added this.
They are neither plants nor animals. They differ from other forms of life such as micro-organisms and fungi.
1994 users added this.
Tthe comedy of cooking. Soma Yukihira is a brash, confident, and skilled amateur chef who enters Tsuki Culinary Academy to graduate from the culinary school famed for its incredibly limited 1% graduation rate, all while facing numerous other skilled chefs in his class.
523 users added this.
Since early childhood, Soma Yukihira has been assisting his father Joichiro run their family's diner. Throughout the years, he has challenged his father's culinary skills in cooking showdowns, and has lost every single one of their 50 matches.
2951 users added this.
On the planet of Endless Illusion, a lone man adorned in a tuxedo roams the wild and lawless frontier..
729 users added this.

In an attempt to colonize Mars, 21st century scientists tasked with terraforming the planet seed it with a modified algae to absorb sunlight and purify the atmosphere, and cockroaches whose corpses spread the algae across the planet as they feed. Five hundred years later, the first manned ship to Mars lands and its six crew members are attacked by giant mutated humanoid cockroaches with incredible physical strength, later labeled "Terraformars"; the crew is wiped out after sending a warning back to Earth.
205 users added this.