In August of 20XX, a portal to a parallel world, known as the "Gate," suddenly appeared in Ginza, Tokyo. Monsters and troops poured out of the portal, turning the shopping district into a bloody inferno.
966 users added this.

The second season of the Gate anime adapts the Enryuu-hen and Douran-hen arcs. Some time has passed since humanity drove back the invading forces from what is now known as the "Special Region.
350 users added this.

In Mikado City, a "gate" to a different world is opened suddenly one day. Monsters called "Neighbors" start appearing from it, everyone is afraid of them because Earth's weapons don't work against them, but a mysterious group starts fighting off the Neighbors.
468 users added this.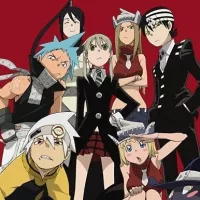 Shibusen, standing for Death Weapon Meister Academy (DWMA) the technical school for Reaper Armsmasters that operates from the deepest recesses of all the corners of the world, in order to prevent the second coming of the so-called Demon God who is feared upon bringing destruction of all humankind and envelop the world with nothing but madness and darkness. The reaper built this agency for weapons and for those who will be trained to wield them.
23100 users added this.
The movie opens with a battle taking place at night on a desolate seaside beach between Sand Ninja and mysterious warriors wearing bulky suits of armor. Despite their best efforts, the Sand Ninja are slowly overwhelmed by the sheer strength of their mysterious opponents.
3560 users added this.
Set in the city of Misaki, Japan, Shakugan no Shana (Translated as Burning-Eyed Shana) is a story involved in the disputes of those from a parallel universe called the Crimson Realm. It largely focuses on Yuji Sakai, an average Japanese high school boy, who gets thrown in the Crimson Realm's conflict by the accident.
5429 users added this.
Trigun: Badlands Rumble is a 2010 film by Madhouse. It is based on the Trigun manga, written by Yasuhiro Nightow.
2338 users added this.
There once was a man named Gold Rodger, a pirate, and he was given the glorious title: 'King of the Pirates' for possessing the legendary treasure, One Piece. He had fame, fortune, and power, until one day, he caught and brought to the execution tower to be executed.
20114 users added this.