Anime Database
In this sequel, a girl named Kazusano Kazuki join up with the 6 girls and Ikko. With Kazuki around, Ikko will find himself in more embarassing situations with these priestesses-in-training.
201 users added this.
Kagami Junichirou was known as a physics genius when he was a teenager, and he was even published in "Nature." However, after college, he suddenly lost all interest in science.
250 users added this.
The members of the student council of Hekiyou Gakuen are chosen by a popularity vote. As a result, all the members are cute girls except for Sugisaki Ken, who studied hard to enter the council.
404 users added this.
Ani.me's official listing has the Good Luck! Ninomiya-kun storyline, reviews, and Good Luck! Ninomiya-kun pictures that you need. Get to know everything about this Television Series show.
115 users added this.
She's as frisky as she is curvy – and kitty wants to play! The flirty fun begins when nice guy Kio has a close encounter with a sexy, alien cat-girl named Eris.
736 users added this.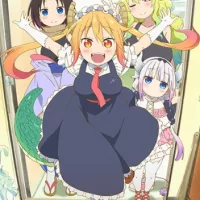 One morning, as office worker Kobayashi gets ready for another day at work, she is greeted by a terrifying sight—the head of a large dragon staring into her eyes from across the balcony. The dragon immediately transforms into a cute, busty and energetic young girl in a maid outfit, who introduces herself as Tohru.
4562 users added this.