Anime Database
The Great War finally came to an end after four long years of conflict; fractured in two, the continent of Telesis slowly began to flourish once again. Caught up in the bloodshed was Violet Evergarden, a young girl raised for the sole purpose of decimating enemy lines.
2075 users added this.
Pipimi and Popuko are two typical 14-year-old girls with endless energy. Together, the two become the stuff of memes by having shootouts in space, traversing video game worlds, stealing an umbrella from [redacted], or other spastic misadventures.
446 users added this.
Aya Asagiri is a middle school girl who has problems both at school with bullying, and at home from physical abuse by her brother. While browsing online, a website pops up on her computer featuring a creepy-looking person.
296 users added this.
From Shirow Masamune, the creator of Ghost in the Shell and Appleseed, comes the story of two cybernetically enhanced girls fighting to save their home. A super-powered terrorist has threatened the island of Cenancle.
55 users added this.

In the world of guns and steel that is Gun Gale Online, LLENN has been a devoted, female solo player. She is obsessed with two things: donning herself entirely in pink and honing her skills with consistent game play.
945 users added this.
Little Witch Academia, continued from the movie and rewritten
485 users added this.

Maple doesn't want to experience pain in the VRMMO game she started playing, so she puts all her skill points into defense until she can't even move. Somehow it works better than anyone expected.
264 users added this.
According to the theories of oneiromancy, dreams of dragons represent the struggle of losing yourself to your own anger. Fittingly, Souya Kuroi wakes up from a nightmare of a massive dragon destroying everything around him in a blaze of rainbow colored light.
16 users added this.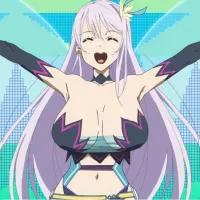 Hiroshi Yuki has just picked up Kiwame Quest, the most realistic VRMMO ever made. But this RPG is TOO lifelike; while he can smell, taste, and feel everything in the game—when he's hurt in it, he feels realistic pain too.
67 users added this.
Star Wars: Visions is an anime anthology series created for the American streaming service Disney+
30 users added this.
Iruma Suzuki is a 14-year-old human boy who is sold to a demon by his lazy, selfish and neglectful parents. The demon, known as Sullivan, takes Iruma to the Demon World and officially adopts him as his grandson.
6 users added this.