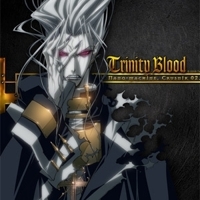 After the unsustainable growth of the human population on Earth, the United Nations has opted to colonize Mars. During this expedition, the humans discovered two alien technologies: The Bacillus virus and the Crusnik nanomachines.
3773 users added this.
Fullmetal Alchemist: Brotherhood, commonly referred to as FMAB is the second adaptation of the hit manga series Fullmetal Alchemist by Hiromu Arakawa. In 2003, shortly after the manga began its run, the first adaptation titled Fullmetal Alchemist was made.
20714 users added this.
The series was directed by Kyoda Tomoki and is produced by Studio Bones, known for the production of many hits such as Wolf's Rain, Fullmetal Alchemist: Brotherhood, Mob Psycho 100, and Boku no Hero Academia. In Japan, it is known as Psalms of the Planet: Eureka Seven, and is stylized simply as Eureka Seven internationally.
5898 users added this.
Renton Thurston is a young 14-year-old who is tired of his monotonous life. The only thing that makes him happy is when he "lifts", an extreme form of aerial hoverboarding.
86 users added this.
The brothers Elric will consider the answers that are left once the Philosopher's Stone has guided their saga to and end. True sacrifice, the deep love of family, the cruel truths of life and death.
3941 users added this.
Edward Elric makes a fatal mistake that drags his brother and his own body into an abyss, and they must seek the philosopher's stone to return their bodies to normal. They learn more and more about alchemy along the way during their adventures.
8792 users added this.
In a world where being born with superpowers called a "Quirk" is the norm, a quirkless regular middle schooler Izuku Midoriya dreams to join the band of heroes that he grew to admire and love, and save the world. Despite being constantly bullied by his schoolmates for having no quirks, he does not give up on his dream and turns his attention into meticulous data gathering about the heroes instead.
12337 users added this.