An academy student, Taki Minase, finds a strange book while exploring an abandoned room in the school's basement. With the help of his cousin, he translates the Latin-French writings and finds them to be instructions for dark magic, which is actually a form of Kabbalistic satanism (the translation was not mentioned in the OVA).
227 users added this.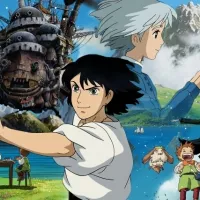 The curse of an evil witch turns a plain young hat-maker, Sophie, into an old woman. Sophie runs away to confront the witch and become young again when she rescues a trapped animated scarecrow.
13512 users added this.