Tsukune is just beginning high school. Devastated he cannot move on, his father gets him into a school no one has heard of, by "Picking up an admission form" from a man who dropped it in the street.
3732 users added this.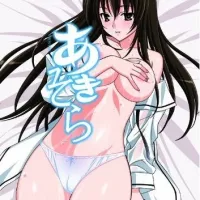 Based on Itosugi Masahiro's incest themed romantic drama manga <i>Aki Sora</i> serialised in the seinen magazine <i>Champion Red Ichigo</i>. <i>Aki Sora</i> revolves around Aoi Aki and Aoi Sora, a pair of close siblings who have shared an intimate bond since childhood.
715 users added this.
When 19-year-old game whiz Norikazu finds a World War II-era computer outside his home, he gets more than he bargained. He unwittingly releases the encoded spirit of the machine's creator: Masago.
59 users added this.