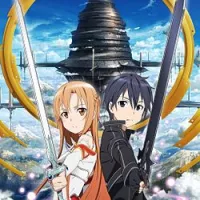 In the year 2022, the gaming industry has reached a new height after the development of the NerveGear, a helmet-like controller that allows the user to fully dive their senses into the world of virtual reality. After a closed beta with only 1,000 testers, the Virtual Reality MMORPG Sword Art Online is launched.
29139 users added this.
A year after escaping Sword Art Online, Kazuto Kirigaya has been settling back into the real world. However, his peace is short-lived as a new incident occurs in a game called Gun Gale Online, where a player by the name of Death Gun appears to be killing people in the real world by shooting them in-game.
2697 users added this.