Gakkou Gurashi! Focuses on the lives of 4 girls who decide to stay over at school: Yuki Takeya, Kurumi Ebisuzawa, Yuri Wakasa, and Miki Naoki.
231 users added this.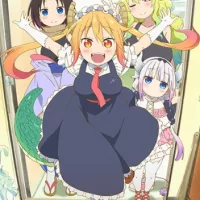 One morning, as office worker Kobayashi gets ready for another day at work, she is greeted by a terrifying sight—the head of a large dragon staring into her eyes from across the balcony. The dragon immediately transforms into a cute, busty and energetic young girl in a maid outfit, who introduces herself as Tohru.
3682 users added this.
Beloved family, good friends, laughter and tears - these things make up the ordinary life of Kaname Madoka, a second year student of Mitakihara City Middle School. One night, Madoka dreams of a mysterious dark haired girl struggling against a terrible evil; the next morning she discovers that the girl, Akemi Homura, has transferred into her class.
5873 users added this.

Re:Zero kara Hajimeru Isekai Seikatsu Suddenly, high school student Subaru Natsuki has been summoned to another world on the way back from the convenience store. With the biggest crisis of his life being summoned to another world, and with no sign of the one who summoned him, things become even worse when he is attacked.
3043 users added this.
(Also known as Ore no Imouto ga Konna ni Kawaii Wake ga Nai) For several years, Kyousuke's relationship with his younger sister Kirino has been cold, to the point that they only share greetings. But one day, Kyousuke finds a moe anime DVD fallen in their entry hall.
2922 users added this.

Crazy adventures of four high school girls that should be playing tennis
24 users added this.

After a traffic accident, Kazuma Sato's disappointingly brief life was supposed to be over, but he wakes up to see a beautiful girl before him. She claims to be a goddess, Aqua, and asks if he would like to go to another world and bring only one thing with him.
2693 users added this.