Fourth story arc of JoJo no Kimyou na Bouken series. The coastal town of Morioh is plagued by the "Bow and Arrow," an ancient artifact which manifests latent stand abilities in criminals and ordinary folk alike.
2798 users added this.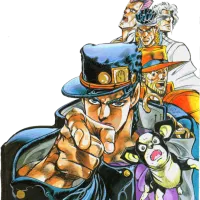 The story of JoJo's Bizarre Adventure centers around the misadventures of the Joestars, a powerful family with English roots; most of its members attract the most particular trials and tribulations when confronting their enemies. Each member of the bloodline has a star shaped birthmark above their left shoulder blade – Dio and his descendants have this distinguishable mark also, as a result from the 'theft' of Jonathan's body and inheriting the Joestar genes as well.
2018 users added this.