The series focuses on the romantic tension between the oblivious military-minded Sousuke Sagara and the beautiful Kaname Chidori. Set in their school Jindai High, the couple is up for various crazy and hilarious misunderstandings, often caused by Sousuke's ignorance.
4010 users added this.
Mutated homo sapiens that have a dangerous telekinetic power is being captured and isolated in laboratories by the government. One of the sixth-sense-possessing humanoids escapes loses her memories and winds up living with a boy from her past.
11893 users added this.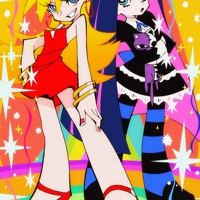 Panty & Stocking are two angels who were kicked out of Heaven for bad behavior. Panty is addicted to sex and Stocking is addicted to sweets.
2919 users added this.
In this lovely coming of age tale we see the young and adventurous Pico explore himself and his future during one mysterious summer. The series is composed of three OVAs that will keep you in tears and wanting more, each tale tells one story of Pico's summer as he tries to find who he really is and the conflicting nature we see between the departure of childhood and the entering of the teenage years.
1076 users added this.
Sawa is a school girl, an orphan, and an assassin. She is being controlled by a corrupt cop who gives her targets to kill, detailing to her the crimes these men have committed in order to justify their death.
454 users added this.