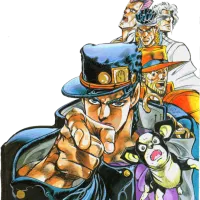 The story of JoJo's Bizarre Adventure centers around the misadventures of the Joestars, a powerful family with English roots; most of its members attract the most particular trials and tribulations when confronting their enemies. Each member of the bloodline has a star shaped birthmark above their left shoulder blade – Dio and his descendants have this distinguishable mark also, as a result from the 'theft' of Jonathan's body and inheriting the Joestar genes as well.
2018 users added this.

Jotaro asks Koichi to travel to Naples to investigate a person known as Haruno Shiobana, whose real name is later revealed as Giorno Giovanna. The story follows Giorno in his goal to rise to the top of the Passione mafia group and turn it into a band of honorable thieves.
780 users added this.