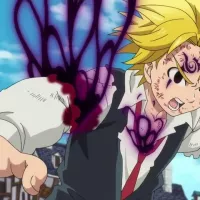 The "Seven Deadly Sins," a group of evil knights who conspired to overthrow the kingdom of Britannia, were said to have been eradicated by the Holy Knights, although some claim that they still live. Ten years later, the Holy Knights have staged a Coup d'état and assassinated the king, becoming the new, tyrannical rulers of the kingdom.
5533 users added this.
Set in a Japan after the apocalypse in the future in 2071, the world has been almost entirely destroyed by these mysterious monsters known as the Aragami. An organization calling itself Fenrir was established to exterminate Aragami using 'God Arcs', weapons specially made from Aragami cells.
1610 users added this.