Samurai Dan and Jillian
The husband and wife team of Daniel and Jillian Coglan are full-time martial art instructors, specializing in 16th century Samurai Arts. When not teaching at their dojo, the Kojokan, they travel the United States performing and teaching the ancient ways of the most famous warriors in history.
With a combined 35 years of experience, their show is a unique blend of history, combative skill, and humor, designed to educate and entertain audiences both large and small.
Beyond their martial skills, the dynamic duo collaborated to write, direct, host, and star in a 12 episode TV series entitled, "The Way of The Samurai."
Daniel is also an author, with several martial art articles published, and is currently working on his second full-length novel.
Greg Ayres
Greg Ayres has been screaming into microphones for close to 22 years now! With over 376 credits to his name, he has managed to play a variety of characters that are almost as colorful as his hair. He is honored to return to his role of Son Goku this year in Saiyuki Reload Zeroin, having worked on the Saiyuki franchise for over 20 years. He can currently be heard as Yu Nishinoya in Haikyu, and as Chai in Shenmue The Animation on Adult swim. Some other recent roles include Chota Segawa in Alice in Borderland (OAV), Sho Utsumi in SSSSGridman, Frost in DragonBall Super, Geo in Sony Picture's Starship Troopers : Traitor of Mars, Jiro in Concrete Revolutio, Ryuuou Edogawa in Doreiku, Koji Koda in My Hero Academia, and he even makes an appearance as Popuko in Pop Team Epic.
He is proud to be a part of the new "Pink Harvest" productions from Sentai Filmworks, in the roles of Izumi Sena in Lovestage, and Yabase in Hitorijime My Hero. Some other recent favorites include Nagisa Haruki in Free, and Free Eternal Summer, MonoKuma in Danganronpa, Clear in Dramatical Murder, Doug in Gangsta, Zenji Marui in Food Wars, Ganta Igarashi in Deadman Wonderland, Heihachi Hayashida in Samurai 7, and Kouichi Sakakibara in Another. Some of his all-time favorite roles include Chrono in Chrono Crusade, Kaoru Hitachiin in Ouran High School Host Club, Youhei Sunohara in Clannad, Yuki in The Wallflower, Leo in Ghost Stories, Satoshi Hiwatari in DNAngel, Kaworu Nagisa in the Director's Cut of Neon Genesis Evangelion, Tomoki Sakurai in Heaven's Lost Property, and Negi Springfield in Negima.
Of all of his many roles, his favorite will always be the real life role of "Little Brother" to a guy with a big Sippy Cup, and an even bigger heart – who touched the world with his "Love and Laughter".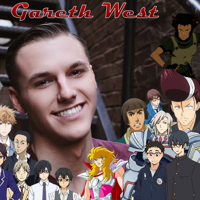 Gareth West
Gareth is an actor, model, and voice actor based out of Texas. He is known for such Anime roles as; Ittetsu Takeda in Haikyu, Seiya Takehaya in Tsurune, Kanichi Konishi in Food Wars, Haruka Shinozaki in My Girlfriend Is Shobitch, Lizard Misty in Saint Seiya, 2D in Golden Time, Akihiro Tsukaba in Chihayafuru, Tomoaki Yamagishi in O Maidens In Your Savage Season, and Dinkuron in Log Horizon. He is also currently playing the role of Jason Lee Scott the Red Power Ranger in the upcoming release Red Rising: A Power Rangers Fan Film. When not making anime voices or acting, Gareth enjoys basically anything nerdy under the sun. So whatever it is you are into, chances are you can come up and geek out. Because there is nothing he likes more than getting enthusiastic, and making new friends!
Rebel and Cleric
PUNK INVADES ANIME! Rebel And Cleric is a Punk/Midwest Emo band that currently has 2 active members: Sai Sake, Lead Singer/Drummer and Tattoo Artist, and James Jarvey, Guitarist/Scream Vocalist. They started busking at conventions in 2019 and are now joining the stage as THE Punk band of Anime Cons! Their genres range from Punk, Emo, Indie, and of course the essential Anime/Show Openings! They know many con-goers are die-hard fans of bands like: "My Chemical Romance", "Panic! At The Disco", "Fall Out Boy" to even more niche-fitting Midwest Emo bands such as "American Football", "Cap'n Jazz", and the oh-so fitting band called "Guitar Fight From Fooly Cooly". Their mission is to bring the spirit of Punk and Emo right at every Anime Con's doorstep, starting with the Midwest!
They have a rotating cosplay theme for their performances at each con. This year's theme is the ever-so loved video game "Animal Crossing"! Join your favorite guitar playing dog "K.K. Slider" and everyone's favorite goth chameleon "Flick" in their Midwest Anime Con Music Tour! Come to their show and party like it's Animal Village!