Jay Hickman
Jay began his career in anime in the 1990s, when he landed his first role at ADV Films in Master of Mosquiton. Since then, he has appeared in more than 100 titles with studios including ADV Films, Funimation, Sentai Filmworks, Switchblade Pictures, Okratron 5000, and others. As a character actor, Jay has been able to voice a broad variety of colorful roles, with the occasional romantic lead thrown in for good measure. His notable credits over the past two decades are Mechazawa in Cromartie High School, Spitfire in Air Gear, Sho Zama in Aura Battler Dunbine, Shiryu in Saint Seiya, Chuu and Hammond in One Piece, Kagetane Hiruko in Black Bullet, Chief Kurama in Elfen Lied, Koji in Generator Gawl, Toru Watanabe in Excel Saga, The Fool in Kaleido Star, Crusty in Log Horizon, SSS in Madlax, Dera Mochimazzi in Tamako Market, Sanetoshi Watase in Penguindrum, Prince Mytho in Princess Tutu, and Giraffe in Revue Starlight, among many others.
Jay's voice has also been featured in live action series and films such as Dark Water, Synesthesia, Conduct Zero, The Fuccons, Touching Wild Horses, Gamera – Attack of Legion, as well as in the video game Unlimited Saga. Jay had his Toonami debut playing Dr. Stylish in Akame ga KILL!, followed by Shiro Kuramori in Parasyte – the maxim, and now Joichiro Yukihira in Food Wars!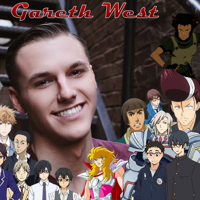 Gareth West
Gareth is an actor, model, and voice actor based out of Texas. He is known for such Anime roles as; Ittetsu Takeda in Haikyu, Seiya Takehaya in Tsurune, Kanichi Konishi in Food Wars, Haruka Shinozaki in My Girlfriend Is Shobitch, Lizard Misty in Saint Seiya, 2D in Golden Time, Akihiro Tsukaba in Chihayafuru, Tomoaki Yamagishi in O Maidens In Your Savage Season, and Dinkuron in Log Horizon. He is also currently playing the role of Jason Lee Scott the Red Power Ranger in the upcoming release Red Rising: A Power Rangers Fan Film. When not making anime voices or acting, Gareth enjoys basically anything nerdy under the sun. So whatever it is you are into, chances are you can come up and geek out. Because there is nothing he likes more than getting enthusiastic, and making new friends!
Quinton Flynn
Quinton Flynn is beloved globally as Axel/Lea from Kingdom Hearts and Raiden from Metal Gear Solid 2, 4 and Rising Revengeance (for which he received a Best Actor Award). Fans Love Flynn as: Kon in Bleach, Iruka Sensai in Naruto, Reno in Final Fantasy, Jhin in League of Legends, Timon in Timon & Pumbaa, and many others!
Quinton's Classic Legacy Characters: Micky Mouse, Spider-Man, Venom, Human Torch, Jonny Quest, Gollum and more pop up often in his solo comedic improvisational Q&A convention panels along with celebrity impressions, song and audience participation.
His impressions and sound-a-likes have been featured on Jimmy Kimmel Live! as Paul McCartney, Mindhunter as Frank Sinatra, Robot Chicken as Elmer Fudd, Draco Malfoy and Swiper The Fox, The Adventures of Billy & Mandy as Christopher Walken, The Mystery of Natalie Wood as James Dean, Cartoon Hook Ups as Deadpool
Flynn seamlessly shape shifts from the deep, sinister and sexy, mad-scientist, Dr. Krankcase – Skylanders: Trap Team, to the polite and earnest Silver The Hedgehog in the Sonic game series! And his twisted Irish hitman Sir Henry Cooldown provided the right spice in the action-adventure hack and slash video games No More Heroes 1 & 2. He also lent his vocal gymnastics to – Star Wars: The Old Republic, Avatar The Last Airbender, Crash Bandicoot, Mass Effect, World of Warcraft, Batman Arkham City Origins, Lord Of the Rings and Pirates of the Caribbean to name a few.
Flynn's Fan Favorite, the lovably nerdy Sheldon Lee, is back in My Life As A Teenage Robot on Amazon Prime! The resurgence of interest in that Nickelodeon animated gem also features Quinton as the heroic Sliver Shell and the despicable Don Prima + more than 50 other incidental voices!! So, Get In Like Flynn!
Samurai Dan and Jillian
The husband and wife team of Daniel and Jillian Coglan are full-time martial art instructors, specializing in 16th century Samurai Arts. When not teaching at their dojo, the Kojokan, they travel the United States performing and teaching the ancient ways of the most famous warriors in history.
With a combined 35 years of experience, their show is a unique blend of history, combative skill, and humor, designed to educate and entertain audiences both large and small.
Beyond their martial skills, the dynamic duo collaborated to write, direct, host, and star in a 12 episode TV series entitled, "The Way of The Samurai."
Daniel is also an author, with several martial art articles published, and is currently working on his second full-length novel.
Cole Feuchter
Cole Feuchter is new to the scene but rising fast. His most notable work is on GameStop TV, a frequent content creator for ALL-IN. He's also known for his work on shows such as THE SAINT'S MAGIC POWER IS OMNIPOTENT and AKUDAMA DRIVE.
His most notable video game work includes: Legend of the Phoenix as DUGUXIN, SONG YU, and ZHEN QI, Soul Land Reloaded as WAR GOD DAI MUBAI, ZHAO WUJI, YOUNG OSCAR, and YU XIAO GANG, Full Service as LENGA VALENTINE, Camp Buddy as NAOTO HAMASAKI/ARCHER SPRINGFIELD, Mister Versatile as LASCIVION, CHEF, FISHMONGER, SHINOBI JIJI, INQUISITOR, SWISS HAND and MECHANIC in Popup Dungeon, THE SPEAKER in The Divine Speaker, MOMO in Dear Monster, and additional voices in Contra Returns. He is the English dub voice of ASAKURA in Ishida & Asakura. If you want to learn more about Cole, you can check out his Twitter @LordAzria or his website at colefeuchter.com.
Kiba Walker
Kiba Walker is an actor and performer based out of Dallas, Texas. His most notable roles in anime, such as Haikyu (Koganegawa, Komi), My Hero Academia (Cider House Leader), Saint Seiya (Scylla Io), Black Clover (Paplo Espuma), Skate-Leading Stars (Irie), Back Arrow (Gote), Thetitan's Bride (Caius Lao Bistail), Horimiya (Tanihara), Junji Ito Collection (Tsukano), Cells At Work!! (Mumps Virus), Cautious Hero (Kebono), Kono Ototomare (Naoya), Bofuri (Christmas Rose), And Case Fileno.221 Kabukicho (Diana). You Can Also Hear His Voice In Fruits Basket, Radiant, One Piece, To Love Ru, O Maidens In Your Savage Season, Akudama Drive, and many more.
In video games, his voice can be heard in Genshin Impact(Xu Liushi/wyratt/zexuan), Camp Buddy(Keitaro/yoshinori), Full Service (Sota), To Trust An Incubus (Kenta), Mister Versatile (Syd), Earthlock(Amon/gnart), Popup Dungeon (Dj Mute/thrilla Killa/centrian/nunchaku Ninja/tinkerer), Something In The Dark (Francis Hale/father Karver), Gyee (Caius), and many others.
His works include ISHIDA & ASAKURA and THE TITAN'S BRIDE. He also is a full-time drag performer, under the name SALEM MOON. You can follow him on Twitter at @justkibawalker or on Instagram at @kibathevoice or @salemmoondrag
Cay C. Grimm
Cay C. Grimm is a multi-talented creative force who has made a name for themselves as a designer, digital illustrator, and aesthetic curator. Their work has been celebrated for its boldness, creativity, and unique style that blends traditional art techniques with cutting-edge digital tools.
But Cay is much more than just a talented artist – they are also a passionate motivator and companion to many in the creative community. They have inspired countless artists to pursue their dreams and push their own boundaries, and have been a beacon of support for those who need it most.
As a bisexual creator, Cay has used their platform to raise awareness and promote acceptance of LGBTQ+ issues. They have been a tireless advocate for equality and inclusion, and have helped to create a more welcoming and accepting world for all. Cay's work is not always safe for work, but their NSFW art is an important part of their creative expression. They use their art to explore themes of sexuality, desire, and identity, and challenge the taboos that often surround these topics.
When Cay isn't creating art, they can often be found singing and songwriting. Their love of music is evident in their work, which is infused with a pop culture sensibility that has made them a sought-after commentator and analyst of all things pop culture.
And if you're wondering what Cay's favorite color is, it's pastel pink! Their work is often infused with this soft and delicate hue, which reflects their love of all things beautiful and serene.
V is for Villains
A new breed of entertainment. The intimate story. Epic visual stylings. That's what you're about to experience when getting ready for a V is for Villains concert. V is for Villains is a new breed of entertainment. Mixing the visual styles of Steampunk, Carnival and Noir, with the musical taste of Nine Inch Nails, Prodigy, and your favorite film score; V is for Villains will take you on a journey through the imagination that your mother couldn't prepare you for. Most groups often say that they intend for "world domination"… V is for Villains might actually mean it…