Greg Ayres
Greg Ayres has been screaming into microphones for close to 22 years now! With over 376 credits to his name, he has managed to play a variety of characters that are almost as colorful as his hair. He is honored to return to his role of Son Goku this year in Saiyuki Reload Zeroin, having worked on the Saiyuki franchise for over 20 years. He can currently be heard as Yu Nishinoya in Haikyu, and as Chai in Shenmue The Animation on Adult swim. Some other recent roles include Chota Segawa in Alice in Borderland (OAV), Sho Utsumi in SSSSGridman, Frost in DragonBall Super, Geo in Sony Picture's Starship Troopers : Traitor of Mars, Jiro in Concrete Revolutio, Ryuuou Edogawa in Doreiku, Koji Koda in My Hero Academia, and he even makes an appearance as Popuko in Pop Team Epic.
He is proud to be a part of the new "Pink Harvest" productions from Sentai Filmworks, in the roles of Izumi Sena in Lovestage, and Yabase in Hitorijime My Hero. Some other recent favorites include Nagisa Haruki in Free, and Free Eternal Summer, MonoKuma in Danganronpa, Clear in Dramatical Murder, Doug in Gangsta, Zenji Marui in Food Wars, Ganta Igarashi in Deadman Wonderland, Heihachi Hayashida in Samurai 7, and Kouichi Sakakibara in Another. Some of his all-time favorite roles include Chrono in Chrono Crusade, Kaoru Hitachiin in Ouran High School Host Club, Youhei Sunohara in Clannad, Yuki in The Wallflower, Leo in Ghost Stories, Satoshi Hiwatari in DNAngel, Kaworu Nagisa in the Director's Cut of Neon Genesis Evangelion, Tomoki Sakurai in Heaven's Lost Property, and Negi Springfield in Negima.
Of all of his many roles, his favorite will always be the real life role of "Little Brother" to a guy with a big Sippy Cup, and an even bigger heart – who touched the world with his "Love and Laughter".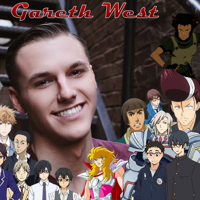 Gareth West
Gareth is an actor, model, and voice actor based out of Texas. He is known for such Anime roles as; Ittetsu Takeda in Haikyu, Seiya Takehaya in Tsurune, Kanichi Konishi in Food Wars, Haruka Shinozaki in My Girlfriend Is Shobitch, Lizard Misty in Saint Seiya, 2D in Golden Time, Akihiro Tsukaba in Chihayafuru, Tomoaki Yamagishi in O Maidens In Your Savage Season, and Dinkuron in Log Horizon. He is also currently playing the role of Jason Lee Scott the Red Power Ranger in the upcoming release Red Rising: A Power Rangers Fan Film. When not making anime voices or acting, Gareth enjoys basically anything nerdy under the sun. So whatever it is you are into, chances are you can come up and geek out. Because there is nothing he likes more than getting enthusiastic, and making new friends!
Jay Hickman
Jay began his career in anime in the 1990s, when he landed his first role at ADV Films in Master of Mosquiton. Since then, he has appeared in more than 100 titles with studios including ADV Films, Funimation, Sentai Filmworks, Switchblade Pictures, Okratron 5000, and others. As a character actor, Jay has been able to voice a broad variety of colorful roles, with the occasional romantic lead thrown in for good measure. His notable credits over the past two decades are Mechazawa in Cromartie High School, Spitfire in Air Gear, Sho Zama in Aura Battler Dunbine, Shiryu in Saint Seiya, Chuu and Hammond in One Piece, Kagetane Hiruko in Black Bullet, Chief Kurama in Elfen Lied, Koji in Generator Gawl, Toru Watanabe in Excel Saga, The Fool in Kaleido Star, Crusty in Log Horizon, SSS in Madlax, Dera Mochimazzi in Tamako Market, Sanetoshi Watase in Penguindrum, Prince Mytho in Princess Tutu, and Giraffe in Revue Starlight, among many others.
Jay's voice has also been featured in live action series and films such as Dark Water, Synesthesia, Conduct Zero, The Fuccons, Touching Wild Horses, Gamera – Attack of Legion, as well as in the video game Unlimited Saga. Jay had his Toonami debut playing Dr. Stylish in Akame ga KILL!, followed by Shiro Kuramori in Parasyte – the maxim, and now Joichiro Yukihira in Food Wars!
Quinton Flynn
Quinton Flynn is beloved globally as Axel/Lea from Kingdom Hearts and Raiden from Metal Gear Solid 2, 4 and Rising Revengeance (for which he received a Best Actor Award). Fans Love Flynn as: Kon in Bleach, Iruka Sensai in Naruto, Reno in Final Fantasy, Jhin in League of Legends, Timon in Timon & Pumbaa, and many others!
Quinton's Classic Legacy Characters: Micky Mouse, Spider-Man, Venom, Human Torch, Jonny Quest, Gollum and more pop up often in his solo comedic improvisational Q&A convention panels along with celebrity impressions, song and audience participation.
His impressions and sound-a-likes have been featured on Jimmy Kimmel Live! as Paul McCartney, Mindhunter as Frank Sinatra, Robot Chicken as Elmer Fudd, Draco Malfoy and Swiper The Fox, The Adventures of Billy & Mandy as Christopher Walken, The Mystery of Natalie Wood as James Dean, Cartoon Hook Ups as Deadpool
Flynn seamlessly shape shifts from the deep, sinister and sexy, mad-scientist, Dr. Krankcase – Skylanders: Trap Team, to the polite and earnest Silver The Hedgehog in the Sonic game series! And his twisted Irish hitman Sir Henry Cooldown provided the right spice in the action-adventure hack and slash video games No More Heroes 1 & 2. He also lent his vocal gymnastics to – Star Wars: The Old Republic, Avatar The Last Airbender, Crash Bandicoot, Mass Effect, World of Warcraft, Batman Arkham City Origins, Lord Of the Rings and Pirates of the Caribbean to name a few.
Flynn's Fan Favorite, the lovably nerdy Sheldon Lee, is back in My Life As A Teenage Robot on Amazon Prime! The resurgence of interest in that Nickelodeon animated gem also features Quinton as the heroic Sliver Shell and the despicable Don Prima + more than 50 other incidental voices!! So, Get In Like Flynn!
Spirit Bomb
Spirit Bomb is an explosive anime tribute band making waves across the nation! Fronted by vocalist Elaina Sekino and guitar Youtuber "Tuning the World," our mission is simple: to deliver an unforgettable live concert experience to anime enthusiasts far and wide. Brace yourself for dynamic performances that capture the essence of your beloved anime songs. Feel the energy surge as you dance and sing along to your favorite hits, complemented by captivating visuals and easy-to-follow romaji lyrics. Join Spirit Bomb on this epic journey as we celebrate the magic of anime through the power of music!
V is for Villains
A new breed of entertainment. The intimate story. Epic visual stylings. That's what you're about to experience when getting ready for a V is for Villains concert. V is for Villains is a new breed of entertainment. Mixing the visual styles of Steampunk, Carnival and Noir, with the musical taste of Nine Inch Nails, Prodigy, and your favorite film score; V is for Villains will take you on a journey through the imagination that your mother couldn't prepare you for. Most groups often say that they intend for "world domination"… V is for Villains might actually mean it…
Samurai Dan and Jillian
The husband and wife team of Daniel and Jillian Coglan are full-time martial art instructors, specializing in 16th century Samurai Arts. When not teaching at their dojo, the Kojokan, they travel the United States performing and teaching the ancient ways of the most famous warriors in history.
With a combined 35 years of experience, their show is a unique blend of history, combative skill, and humor, designed to educate and entertain audiences both large and small.
Beyond their martial skills, the dynamic duo collaborated to write, direct, host, and star in a 12 episode TV series entitled, "The Way of The Samurai."
Daniel is also an author, with several martial art articles published, and is currently working on his second full-length novel.