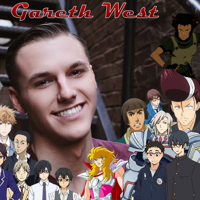 Gareth West
Gareth is an actor, model, and voice actor based out of Texas. He is known for such Anime roles as; Ittetsu Takeda in Haikyu, Seiya Takehaya in Tsurune, Kanichi Konishi in Food Wars, Haruka Shinozaki in My Girlfriend Is Shobitch, Lizard Misty in Saint Seiya, 2D in Golden Time, Akihiro Tsukaba in Chihayafuru, Tomoaki Yamagishi in O Maidens In Your Savage Season, and Dinkuron in Log Horizon. He is also currently playing the role of Jason Lee Scott the Red Power Ranger in the upcoming release Red Rising: A Power Rangers Fan Film. When not making anime voices or acting, Gareth enjoys basically anything nerdy under the sun. So whatever it is you are into, chances are you can come up and geek out. Because there is nothing he likes more than getting enthusiastic, and making new friends!
Tom Fahn
Tom is best known as the voice of "Agumon" in Digimon: Digital Monsters and is currently reprising the role in the Digimon Adventure Tri movies! He recently played the lead in the animated feature Condorito, and can be heard in the Sony PlayStation game God of War. Tom's voice can also be heard in Dragon Ball Super and JoJo's Bizarre Adventure both on Toonami on Adult Swim. Other credits include Hunter X Hunter, Naruto and Bleach, The Adventures of Panda Warrior playing the dog Bruce Barkley directed by Wendee Lee, two roles (Stu the Turtle and a Male Ox) in Ice Age 2: The Meltdown directed by Carlos Saldanha, and some fans may remember Tom's memorable death scene as Rocco Bonnaro in Cowboy Bebop with Steve Blum, directed by Mary Elizabeth McGlynn. A memorable Video Game credit includes begging for his life (yet again!) on Watchmen: The End Is Nigh directed by Collette Sunderman, and he's also died several times, on several episodes, voicing several characters on Mighty Morphin Power Rangers. A career highlight is working in the same studio on the old Hanna-Barbera lot where The Flintstones were recorded, playing the Woim in the Boid N Woim for Cartoon Network-What A Cartoon, directed by Kris Zimmerman. From the early days of anime, other credits include The Guyver as Sho Fukamachi, and Orguss as Kei Katsuragi directed by the legendary Kevin Seymour. Originally from Huntington, New York, Tom always wanted to be an actor, but his greatest credits are his wife Dorothy, and their daughter. They live in Los Angeles where he is represented by Vanessa Gilbert at Solid Talent Agency.
Dorothy Fahn
Dorothy can currently be heard as Tsumugi in the game Danganronpa V3: Killing Harmony! In Anime she's Merribit Stapleton in Gundam: Iron Blooded Orphans, Melody in Hunter X Hunter, and Marryl and Bernadette in Little Witch Academia. She's also known for Konan in Naruto, Meryl in Trigun, An/Natsumi in Sailor Moon, Naru in Love Hina, Kyoko in Sword Art Online, Kaoru in Rurouni Kenshin, Margaret in The Seven Deadly Sins, and Fuuko/Sky Raker in Accel World. You may remember her as Tai's Mom and Lilymon in Digimon: Digital Monsters, Lilamon-Lalamon- Sunflowmon-Rosemon in Digimon: Data Squad, Sakura in Rock Lee, Ren Hakuei in Magi The Kingdom of Magic, Yoko in The Twelve Kingdoms, Miyu in Vampire Princess Miyu, Fujiko in Lupin the 3rd: The Castle of Cagliostro, Suzu in Bobobo-bo Bo-bobo, Nina Purpleton in Gundam 0083, Miz Mishtal in El Hazard, Shaya in Super Dimension Century Orguss, and Nova in Magic Knight Rayearth. When it comes to video games, she's in Fire Emblem Echoes, Hyperdimension Neptunia Re;Birth 1, 2 & 3, Elsword, Kingsglaive: Final Fantasy XV, Fallout 4, League of Legends, Mugen Souls, Fairy Fencer F, Atelier Esha and Logy, Atelier Shallie, Persona 2, Star Ocean Till The End of Time, Danganronpa: Trigger Happy Havoc, etc. Other roles include Lily in Leap Frog, Nana & Zelda in Zou, Inez in Zorro the Chronicles, Francesca in Violetta, Evilina in The Night B4 Christmas, May & Kikki in Pom Pom and Friends, Theo in Jr. On The Job, Pororo in Pororo's Racing Adventure, and Eddy & Princess Parfait in Pororo to the Cookie Castle. She is represented by CTC Talent in Los Angeles CA, and thanks her hubby, daughter and family for all their love and support!
Kiba Walker
Kiba Walker is an actor and performer based out of Dallas, Texas. His most notable roles in anime, such as MY HERO ACADEMIA (Cider House Leader), SAINT SEIYA (Scylla Io), BLACK CLOVER (Paplo Espuma), SKATE-LEADING STARS (Irie), BACK ARROW (Gote), THE TITAN'S BRIDE (Caius Lao Bistail), HORIMIYA (Tanihara), JUNJI ITO COLLECTION (Tsukano), CELLS AT WORK!! (Mumps Virus), CAUTIOUS HERO (Kebono), KONO OTO TOMARE (Naoya), BOFURI (Christmas Rose), and CASE FILE NO.221 KABUKICHO (Diana). You can also hear his voice in FRUITS BASKET, RADIANT, ONE PIECE, TO LOVE RU, O MAIDENS IN YOUR SAVAGE SEASON, AKUDAMA DRIVE, and many more.
In video games, his voice can be heard in GENSHIN IMPACT (Xu Liushi/Wyratt/Zexuan), CAMP BUDDY (Keitaro/Yoshinori), FULL SERVICE (Sota), TO TRUST AN INCUBUS (Kenta), MISTER VERSATILE (Syd), EARTHLOCK (Amon/Gnart), POPUP DUNGEON (DJ Mute/Thrilla Killa/Centrian/Nunchaku Ninja/Tinkerer), SOMETHING IN THE DARK (Francis Hale/Father Karver), GYEE (Caius), and many others.
Kiba is also an ADR director and scriptwriter for Ascendent Animation, for which he is also the President and COO. His works include ISHIDA & ASAKURA and THE TITAN'S BRIDE. He also is a full-time drag performer, under the name SALEM MOON. You can follow him on Twitter at @justkibawalker or on Instagram at @kibathevoice or @salemmoondrag
Samurai Dan and Jillian
The husband and wife team of Daniel and Jillian Coglan are full-time martial art instructors, specializing in 16th century Samurai Arts. When not teaching at their dojo, the Kojokan, they travel the United States performing and teaching the ancient ways of the most famous warriors in history.
With a combined 35 years of experience, their show is a unique blend of history, combative skill, and humor, designed to educate and entertain audiences both large and small.
Beyond their martial skills, the dynamic duo collaborated to write, direct, host, and star in a 12 episode TV series entitled, "The Way of The Samurai."
Daniel is also an author, with several martial art articles published, and is currently working on his second full-length novel.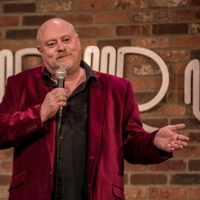 Robert L. Mungle
Robert L. Mungle is a voice actor for Funimation, ADV Films, Seraphim Digital/Sentai Filmworks, and OkraTron 5000. The Right Reverend Robert L. Mungle founded The Whiskey Brothers in 1998. Since then, while the line-up has changed, it has been his outrageously loud voice that has led the group. Mungle has taken the stage everywhere from sold out theaters to seedy strip clubs. His IMDB page boasts over 100 different anime roles, from "Ghost Stories" to "Lady Death" to "Excel Saga." He was born in Houston and you might recognize him from any of tons of anime roles, some of which include Amanojaku from Ghost Stories, Mr.8 from One Piece, Matsushita from Angel Beats, and Pedro Domingo from Excel Saga. He's appeared in Akame ga Kill!, 009-1, Broken Blade, Gantz, Halo Legends, and many others.
Jay Hickman
Jay began his career in anime in the 1990s, when he landed his first role at ADV Films in Master of Mosquiton. Since then, he has appeared in more than 100 titles with studios including ADV Films, Funimation, Sentai Filmworks, Switchblade Pictures, Okratron 5000, and others. As a character actor, Jay has been able to voice a broad variety of colorful roles, with the occasional romantic lead thrown in for good measure. His notable credits over the past two decades are Mechazawa in Cromartie High School, Spitfire in Air Gear, Sho Zama in Aura Battler Dunbine, Shiryu in Saint Seiya, Chuu and Hammond in One Piece, Kagetane Hiruko in Black Bullet, Chief Kurama in Elfen Lied, Koji in Generator Gawl, Toru Watanabe in Excel Saga, The Fool in Kaleido Star, Crusty in Log Horizon, SSS in Madlax, Dera Mochimazzi in Tamako Market, Sanetoshi Watase in Penguindrum, Prince Mytho in Princess Tutu, and Giraffe in Revue Starlight, among many others.
Jay's voice has also been featured in live action series and films such as Dark Water, Synesthesia, Conduct Zero, The Fuccons, Touching Wild Horses, Gamera – Attack of Legion, as well as in the video game Unlimited Saga. Jay had his Toonami debut playing Dr. Stylish in Akame ga KILL!, followed by Shiro Kuramori in Parasyte – the maxim, and now Joichiro Yukihira in Food Wars!
John Swasey
John started down the road of anime in 1997, when he landed his first role in Golden Boy from ADV Films. Since then, John has gone on to voice hundreds shows and characters. John's wife once quipped that there are certain actors who might be the "Brad Pitts" of anime but John is the "Kevin Bacon" of anime.
Being the character actor type has given John the freedom to voice bazillions of characters such as Undertaker in Black Butler, Salvador in Borderlands II (VG), Gendo in Evangelion, the Captain in Halo (VG), Lord Death in Soul Eater, Hoenheim in Fullmetal Alchemist, Sir Crocodile in One Piece, Salvador in Borderland II, Kogoro in Sgt. Frog, Huang in Darker than Black, Vulcan in Orphen, Ken in Kaleido Star, Captain Ahab in Hakugei The Legend of Moby Dick, Rikudoh in RahXephon, Mister in Coyote Ragtime Show, as well as roles in the live action films 2009 Lost Memories, Conduct Zero, Yesterday, Jungle Juice, and the Gamera trilogy. Most recently you can catch John in the broadcast series of GANGSTA as Chad, and Akame Ga Kill as Bols as seen on Toonami.
In 2004, John jumped to the other side of the "mic" to direct. Among the shows he has directed are Welcome to the N.H.K., AirGear, Wandaba Style, St. Seiya, Shadow Skill, E's Otherwise, Michel, Jinki Extend and Shinobi (live action co-directed with longtime pal, Kyle Jones). John loves working in the world of anime as a director and voice actor! Currently John is working with pals Kyle Jones and Jay Hickman on an original animation full length movie called The Perfect Khan. In addition to anime, John has voiced thousands of radio and tv commercials – even acted in a few films. One of the coolest acting jobs was being the Beer Delivery Guy in Dazed and Confused.
Olivia Swasey
Olivia Swasey started working in anime when she was just a kid doing bit parts and walla. In 2018 she graduated into larger roles such as: 3D Kanojo Real Girl (Ishino); Release the Spyce (Katrina); Revue Starlight (Maya Tendo); and 7Seeds (Ran).
She has also appeared in BanG Dream! (Yukina Minato), Bloom Into You (Midori Igarashi), Land of the Lustrous (Morga), and To Love-ru (Aya). She loves doing yoga and making brownies. She is always looking forward to her next project!