Gigi Edgley
Gigi Edgley is an internationally renowned actress originally from Australia. Edgley has starred in countless film and television series including FX's Feud, USA's The Starter Wife, Enuattii: Face off Designer's latest feature, Diminuendo, Rescue Special Ops, Tricky Business, SyFy's Showdown at Area 51, Quantum Apocalypse, Carlotta, Newcastle, Black Jack, Peacekeeper Wars, Stingers, Secret Life Of Us, Beastmaster, Lost World, Water Rats, Day of The Roses, Star Trek Continues and Nexus.
Additionally Edgley has an extensive history with The Jim Henson Company beginning with her popular role as Chiana on the company's critically acclaimed sci fi cult series, Farscape in which she starred for over five years. Gigi stole the hearts of sci-fi enthusiasts. She was originally cast as a guest star for one episode, but quickly captured the attention of the Farscape writers, producers and the fans alike. The mischievous Chiana became one of the most popular, and at times controversial characters in the series. The SyFy Channel and The Jim Henson Company also asked her to host Jim Henson's Creature Shop Challenge.
Recently Gigi also helped crowd fund over $101700 for The Circuit. Edgley's team additionally raised over $44,000 on Kickstarter to fund a sci-fi short called Hashtag. They are planning to take it to Sundance, Cannes and Toronto film festivals. Gigi was nominated for the Film's Critic's Circle awards for best lead actress in the feature Last Train To Freo, the SyFy Genre Award for Best Supporting actress, the Saturn Award for Best Supporting Actress in a television series and Maxim Award for Sexiest Space Babe.
Gigi has a long list of theatre credits as well that include: Kill Everything YouLove, 4.48 Psychosis,The Rover, Boy's Life, Romeo And Juliet, Road, Picnic At Hanging Rock and Les Miserables. She also recently sung at Stan Lee's Birthday and was selected for the Women of Sci-Fi book by Denny's Illic. Edgley is also a recording artist, creator of original comic books, director and producer. She earned a Bachelor of Arts degree from the Queensland University of Technology after entering in the auditions alongside hundreds of other candidates. Check out her website at: GigiEdgley.Com
Samurai Dan and Jillian
The husband and wife team of Daniel and Jillian Coglan are full-time martial art instructors, specializing in 16th century Samurai Arts. When not teaching at their dojo, the Kojokan, they travel the United States performing and teaching the ancient ways of the most famous warriors in history.
With a combined 35 years of experience, their show is a unique blend of history, combative skill, and humor, designed to educate and entertain audiences both large and small.
Beyond their martial skills, the dynamic duo collaborated to write, direct, host, and star in a 12 episode TV series entitled, "The Way of The Samurai."
Daniel is also an author, with several martial art articles published, and is currently working on his second full-length novel.
Chuck Huber
Chuck Hubers most recent anime roles are Android 17, Emperor Pilaf and Kibito in Dragon Ball Super, Kurogiri in My Hero Academia, Jajuka in Escaflowne, Kuro in Servamp, Kuniharu in The Disastrous Life of Saiki K, Asanaga in Endride, Kyūta's Father in The Boy and Beast, Tony Stark in Death Battle, and Jason the Toymaker in CreepyPasta. Chuck Huber started acting in Anime in DBZ. Since then he has voiced hundreds of characters including Hiei in YuYu Hakusho, Stein in Soul Eater, Kululu in Sgt. Frog, Mohji in One Piece, Shou Tucker in Full Metal Alchemist. He has been a writer on Hetalia, Sgt. Frog, Baccano, Spice and Wolf, Strike Witches, Dragonaut and Skip Beat!
Video games Chuck has contributed voices for include Borderlands II, Ghostbusters, The Walking Dead, Aeon Flux, DBZ, Smite, The Killing Floor… among others. As a filmmaker Chuck has acted, produced, written or directed for Arbor Day – The Musical currently on Amazon Prime, Prince Adventures, The Troubadoors, The Fragility of Seconds, The Mechanical Grave, Odd Man Out among others. He began acting in Chicago at the Goodman Theater, Court Theater, Steppenwolf Theater after graduating from DePaul University and continues to work on stages in the Dallas/Fort Worth area. He also plays Dr. McCoy in Star Trek Continues; Dean Hansen on Season 2 of American Crime on ABC and Detective Swinton in the The Harrowing.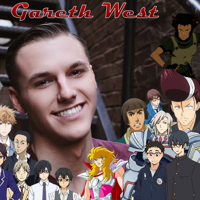 Gareth West
Gareth is an actor, model, and voice actor based out of Texas. He is known for such Anime roles as; Ittetsu Takeda in Haikyu, Seiya Takehaya in Tsurune, Kanichi Konishi in Food Wars, Haruka Shinozaki in My Girlfriend Is Shobitch, Lizard Misty in Saint Seiya, 2D in Golden Time, Akihiro Tsukaba in Chihayafuru, Tomoaki Yamagishi in O Maidens In Your Savage Season, and Dinkuron in Log Horizon. He is also currently playing the role of Jason Lee Scott the Red Power Ranger in the upcoming release Red Rising: A Power Rangers Fan Film. He is beyond thrilled to get a chance to come back to Iowa for the first time in a very long while, having grown up in the town of Fairfield, Iowa for his entire youth. Come celebrate a homecoming with him and say hi, because he cannot wait to have the chance to meet each and every one of you!