Megaman NT Warrior Axess [TV]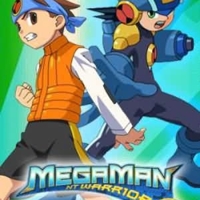 Plot Summary
You are viewing an unapproved revision.
Lan Hikari is a 5th grader who loves netbattling (where two or more people's cyber avatars fight online) and one day his dad sends him his own personally custom made NetNavi (Network Navigator) named Megaman. Set in a world where everything is run by computers, and cyber crime has been running rabid lately. This is about the adventures of Lan and Megaman.
69 users rated this.
Watched By
Comments