Kiss x SIS [TV]
Kiss x Sis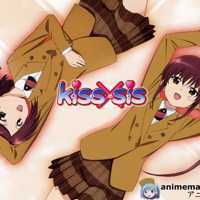 Plot Summary
You are viewing an unapproved revision.
Keita Suminoe is a third-year Japanese middle school student living with his father, stepmother, and older twin stepsisters, Ako and Riko in undisclosed Japan. Since the remarriage of their parents at childhood, the siblings have always been affectionately close and supportive of one another. Picking up at least a decade later, the trio, now pubescent teenagers, see their opposites in a noticeably less platonic fashion; Ako and Riko frequently flirt and lust after Keita while, much to his chagrin, he fights the urge to give into them. The relentless admiration he receives, coupled with the situations and fan service that often ensues, is the primary basis of the series.
903 users rated this.
Watched By
Comments